PWO-EXPO 2022 applies the Virtuafil Simple judging standards.
Simple Judging Standards are intended to introduce novice collectors or novice exhibitors to the philatelic exhibiting experience, in an informal, non-academic and enjoyable way.
The exhibition will use an informal judging method where the Jury Members will award overall points, on a scale from 5 to 10, for each exhibit, based on their personal/professional opinion of the exhibit. The grades of award medals for PWO-EXPO 2022 are specified on the Classes and Class Groups page. For each exhibit, the participant will be able to login to their Virtuafil account and download an individual score sheet. This will include not only the total score received but also recommendations by the evaluating jury member for improving their site. An example of a score sheets is displayed below: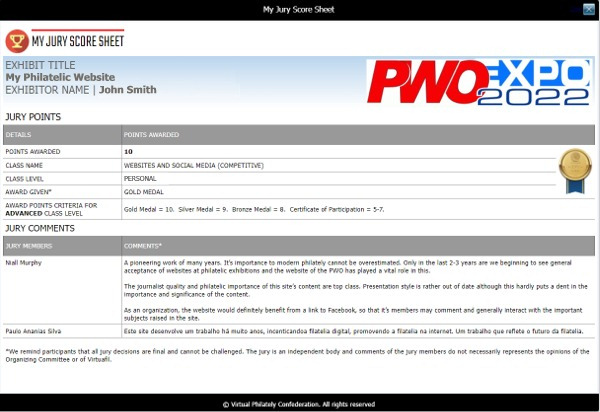 Depending on the intended purpose and the type of the site, the evaluation criteria may include such items as:
Philatelic importance: Does the site have useful information in philatelic terms?
Philatelic knowledge: Does the author display significant philatelic knowledge?
Originality of the articles: Is there a significant level of originality or is the site just full of syndicated, shared or derivative content?
Appropriate content/features: is the site's content and features appropriate for the site's intended purpose?
Ease of use: Can I find information and can I navigate through the site in an easy and logical way?
Presentation: Significant if the presentation is very poor or if it distracts from the intended purpose.