PWO-EXPO 2022 is classified as an Informal exhibition and the Simple Judging Standards are applied, as defined in the rules. On this basis, the following medal grades apply in all competitive Classes and Class Groups:
Gold Medal
Silver Medal
Bronze Medal
All participants not awarded a medal are issued a Certificate of Participation.
The number of jury points required to qualify for each medal depends on the Class and Class Group.
All medals are virtual and are issued in the form of digital certificates which may be downloaded by the winners. There are no physical medals or printed certificates. An example of a certificate is displayed below: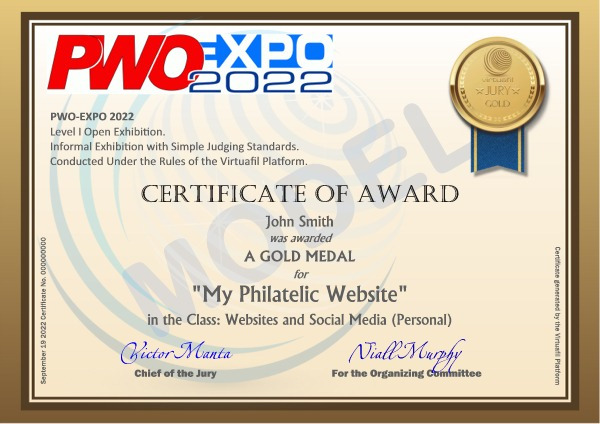 As with all exhibitions conducted on the Virtuafil platform, PWO-EXPO 2022 will be open to public (popular) voting. This applies to all exhibits, whether competitive or not. The top three most popular exhibits in each Class and/or Class Group are awarded the Gold, Silver or Bronze Popular Vote Trophy of the Internet for that Class/Group in the form of a special, downloadable digital certificate. No physical trophies are available.